European Gratitude Tour - Early Summer 2021
Always wanted to see some of the coolest things in Europe, but didn't want to take an impersonal tour? Come with Karing Journey's Karin Gunderson
*Increase your spiritual connection to the Lord
*Enjoy fun and spiritual moments together in cathedrals to one of nature's finest cathedrals - the Alps!
*Fill your heart with gratitude for all God's good gifts!
*Enjoy fresh, wholesome cuisine
*Glory in the beauty of God's creation!
*Stand in awe before famous sculptures and paintings.
Explore London's British Museum & National Gallery, with an option to watch the changing of the guard & visit the St. Paul's Cathedral. Then feel the awesomeness & closeness of Jesus as you experience Evensong at Westminster Abbey.
After a couple days in London we'll fly to Switzerland where you can appreciate the beauty of the Alps as we ride a train to a visitors center on a mountain pass and then meander through the mountains on a well-traveled trail to our lunch spot. From there, we'll walk down a little more to catch the train back to the valley below.
The following day, have a day to sight-see, paraglide in the Alps or take a train to an ice hotel on top of one of the mountains! The next day, take a day-trip to Lucca, a Baroque Benedictine Abbey unlike the many Gothic, Renaissance, and Classical houses of worship you'll see on the trip. Majestic and stunning scenery are everywhere.
Next, we'll climb on the train to take us over the Italian Alps and into Florence, Italy where we'll experience some of the finest sculptures, paintings, and Cathedrals in the world. We've got a fabulous native-Italian to take us on a walking tour of Florence including visiting the famous Duomo and Michelangelo's David. The following day we will visit a castle turned art gallery and it's fabulous grounds - the Uffizi gallery. The following morning we hop aboard a high-speed train to Rome.
In Rome, you'll want to see the Colosseum all lit up in the evening and we'll go to a concert
More detailed info on the entire tour and add-on option coming very soon!
Hope you'll join us!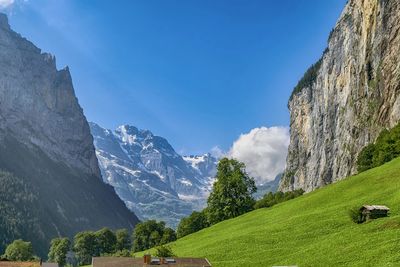 Valley below Murren, Switzerland, where Karin Gunderson paraglided above the mountains!